Welcome to our site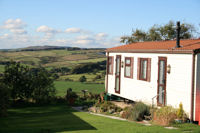 Current Weather Conditions at Dobrudden. Taken from our weather center.
Dobrudden Caravan Park has been Established since the 1950's, though the Farm has stood for centuries. The Park is set on the breathtaking and beautiful moorland of Baildon, steeped in rich history dating back to the iron age. Dobrudden boasts excellent views over the Shipley glen and surrounding areas.
Enjoy peaceful rural setting yet only two miles by car to Baildon village.
The park has a vivid array of wildlife! There are an abundance of attractions, nature walks and entertainment venues near, and in the surrounding towns.

Open from March 1st to January 31st every year.